The biggest city in Kyushu, with a great history– the charming features of "Fukuoka"
Environment-An urban city which has great harmony with nature–an excellent place to live
Fukuoka's biggest downtown area of Tenjin and Canal City Hakata are full of the latest fashion and up- to-date cultural information and is visited by many international students in their free time. Surrounded by oceans and mountains. the city has abundant natural beauty, which always helps citizens feel relaxed in their everyday's lives.

Tenjin

Canal City Hakata

Ohori Park

Sanno Park
提供:福岡市
Tradition-You can always feel the good old days' Japanese tradition, surrounded by historical culture.
There are many shrines and temples with long histories, and in addition cultural events and festivals have traditionally been held in Fukuoka. You can see good old traditions here and there while living in the urban city.

Hakata Gion Yamakasa Festival

Dazaifu Shrine

Hakata dolls

Hakata silk fabrics
提供:福岡市
Transportation-A gateway to Asia with a nice and extensive transportation network
Kyushu's biggest JR station is only an 8 minute walk from Aso. It's called Hakata Station, where Shinkansen trains leave and arrive for/from major places not only in Kyushu but also all over Japan. It's also just a 5minute train-ride from Fukuoka Airport, which is a gateway to Asia with nice and extensive transportation networks.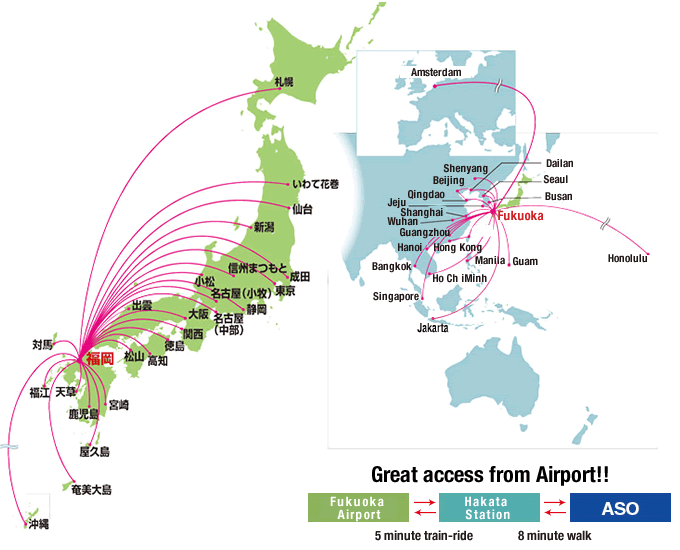 Fukuoka Airport

Hakata Station

Bay side place Hakata Wharf
提供:福岡市
Life-The world's top comfortable city to live in, where you can experience four seasons
There are 4 distinctive seasons of spring, summer, autumn and winter in Japan. With a relatively mild climate, you can find various ways of having fun from season to season, to add an interesting flavor to your life in Fukuoka. Smaller than Tokyo, it certainly povides the best living environment for international students.
Four seasons in Japan

Fukuoka is more livable than Tokyo!
When living alone as a student , you can save as much as 110,000yen to 310,000yen a year in Fukuoka rather than in Tokyo or Osaka!
*Data source:"The University Co-op Synthesis Living Nationwide Conference 2010″ (Tokyo and Osaka district)
*"Average rent in Fukuoka" is applied from that of new international students at Kyushu University, Seinan University, who resided in accommodations via University Co-op.
Entertainments-The city that brings you full enjoyment of sports and shopping
Fukuoka has lots of nice facilities such as a ball park , soccer stadium, zoo, botanical garden, fashionable shopping malls and so forth. They are all located so conveniently within an area accessible by public transport that you can enjoy your favorite activities to the fullest..

Fukuoka Yahoo Oku! Dome

Level-5 Stadium

Fukuoka City Zoo & Botanical Garden

Uminonakamichi Sea-side Park

Momochi Sea-side Park

Marinoa City Fukuoka
提供:福岡市
Further information about Fukuoka