Aso International Center
I am concerned about the life in Japan, so I would like to know about it.
I would like to know about the procedures for moving.
I would like to know about the extension of period of stay.(Visa)
Plus αSystem (To help your progress to JLPT N1)
The Plus α System which we can provide especially as comprehensive technical colleges allows our international students the freedom to attend classes in other fields at Fukuoka campus, these experiences would expand their future possibilities. Additionally, our international students will improve their Japanese proficiency with the aids of the Japanese language department.
Plus α Course List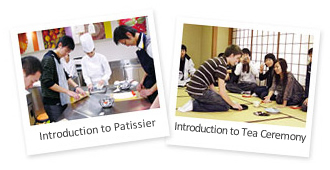 Introduction to Patissier
Introduction to Sign Language
English Conversation
Career Path Class
Penmanship Class
Stained Glass Work Class
Chinese for Beginners
Total Beauty
Korean for Beginners
Introduction to Color Coordinating
Preparation for JLPT N1
Perspectives of Architecture
Introduction to Tea Ceremony (Urasenke)
Paper Airplane Modeling
Introduction to Ikebana
Introduction to Home Building
Introduction to Tai Chi
* Courses may change year by year.
Dormitory Life

Dormitory Fees(Initial Fees)
(Unit: JPY)
| Processing Fee (Upon check-in) | Deposit* | Rent (Including Utilities for half a year) | Total |
| --- | --- | --- | --- |
| 52,000 | 50,000 | 156,000 | 258,000 |
* Deposit will be refunded with the deduction of damages and repairs if needed when the contract is expired after the completion of the vacation process